We are passionate about our boaters and them living their best boating life. Part of what makes boating so great is that it lets you spend time with your friends – or yourself! – while enjoying any number of great water activities! Having that much fun is sure to work up an appetite so it is important to always have a good spot to anchor for meals. Here we share our top spots in Alberta where you can have a great time on the water and a scenic view of the mountains while you eat.

Slyvan Lake, located in central Alberta is widely considered to be one of Alberta's top destinations for family activities year-round. Waterskiing and windsurfing are popular here, and the lake is typically teeming with fish ready to be caught. Residents and visitors alike agree that The Big Moo Ice Cream Parlour is the best place to get sweet treats, delicious food, and other necessities such as beach toys, sunglasses, and clothing. If you find yourself at the lake on a Thursday, you should consider grabbing a bite at Sylvan Lake's Food Truck Thursday, a weekly event that runs until the end of September!

Lesser Slave Lake is great for families who love to go fishing and experience wildlife on the water. The area is popular among anglers for the diversity of species, such as burbot and lake whitefish and as the lake is on a fly-way for migrating birds such as the yellow warbler, it also attracts birders from all over Alberta. Other water activities such as windsurfing are also popular pastimes for visitors. The eastern side of the lake is home to Lesser Slave Lake Provincial Park, which boasts numerous campsites and hiking trails. On your way to the lake, make sure you stop in at the Sawridge Travel Centre Cafe to pick up some phenomenal takeout. They also have a gas bar and convenience store, making in the perfect last-minute stop for families travelling north to the lake.

Long Lake is perfect for families who want their boating trips to last longer than just one day. The lake is part of the Long Lake Provincial Park which offers picturesque campgrounds along over 10 kilometers of coastline. The park offers a boat launch and boat rentals, or you can bring your own powered boat to use on the lake's glassy waters. Waterskiing and fishing are both widely popular in the area making it a great place to test your skills. If you're looking for a meal out on the water, the park is well equipped with both concession stands and supply store. Grab something hot from the stands or make your own picnic to bring out on the water.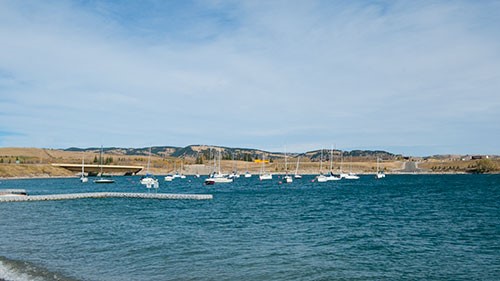 On the Northern shore of Ghost Lake lies the Ghost Reservoir Provincial Recreation Area, which is one of Alberta's top locations for water sports. The lake accommodates  wakeboarding and waterskiing for the adventurous among you, as well as calmer activities such as fishing and windsurfing. The Ghost Lake Marina is nearby, offering moorage for boats plus accommodations to help launch larger vessels. Boat launches are held at the Recreational Area throughout the summer months – so what are you waiting for? To recharge your batteries after all the fun at the lake, check out the Redwood Meadows Bed and Breakfast for a good meal and cozy bed.
How many of these stunning lakes have you been to? If you're itching to get back on the water this summer, make sure you have your boating license. Take the Transport Canada approved course and get your boat license TODAY!